Water Drop Track Lighting
A stylistic line voltage LED Track head ideal for retail applications in both new and retrofit applications.
Download Spec Sheet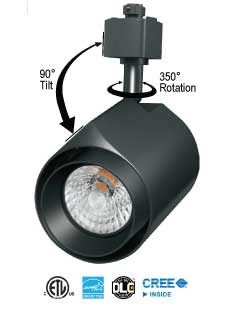 Line Voltage LED track heads with a modern shape.  Ideal for replacement and new retail applications. ETL Listed as is for use with many track types.
FEATURES
Adjustable LED track head featuring Cameta lens with anti-glare lens
Aluminum body available in White, Silver and Black finishes
Beam Spread 15º, 24º, 38º and 60º
Dimming 100% to 10%,  Compatible with most dimmers
DLC and ETL Listed
Lifespan 50,000 hours
Warranty 5-year warranty
WATTAGE AND LUMENS
Wattages:
Lumen Output:
Up to 780Lm / 78Lm/W

Up to 1,200Lm / 80Lm/W

Up to 2,100Lm / 95Lm/W

Up to 3,000Lm / 86Lm/W

Up to 4,100Lm / 91Lm/W
COLOR TEMP
2700ºK
3000ºK
4000ºK
5000ºK
Up to 95 CRI

MOUNTING
Mounting Compatible with
H-type
J-type
L-type
Global type track mounts
Attain LED Water Drop Track Head Mounting & Options